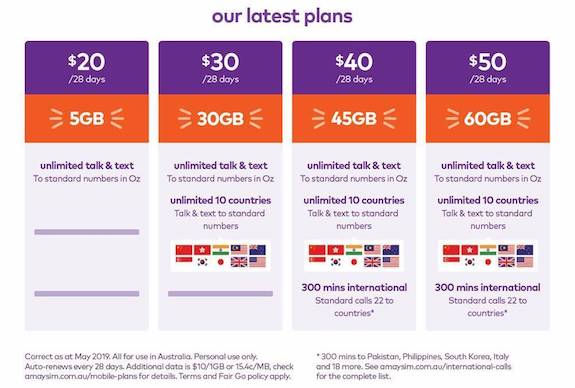 amaysim says Aussies can get "giggy" with its newly enlarged plans, and at the keener pricing, you may well get giddy and giggly with delight at the difference.
Ok, so as of the 6th of June, Amaysim's OLD plans for unlimited talk and text with varying amounts of data were as follows – with the new plans listed below the ad:
$10 with 1GB data
$20 with 2.5GB data
$30 with 10GB data
$40 with 20GB data
$50 with 40GB data
$60 with 60GB data
Now, as of 9am on the 7th of July, amaysim has changed its plans, adding much more data for the money.
The company hasn't stated in its media release what has happened to the $10 and $60 plans, but the NEW plans (with unlimited calls and text in Australia) that it has unveiled are as follows:
$20 for 5Gb data
$30 for 30GB data
$40 for 45GB data
$50 for 60GB data
The $30, $40 and $50 plans also include unlimited talk and text to 10 countries, while the $40 and $50 plans also include 300 minutes of "standard calls' to 22 countries.
We're told that "the launch comes as research conducted by amaysim, in conjunction with Pureprofile, found that two thirds (67%) of the nation is looking to take advantage of end of financial year (EOFY) sales to purchase a new smartphone1.
"Smartphones remain at the heart of Australians' digital life with the average smartphone mobile data usage up by 62% in the last year. This growth is primarily driven by an uptake in streaming services. As Aussies' data requirements continue to soar, amaysim continues to lead the no-lock-in SIM-only mobile plans with great value data inclusions."
Isaac Ward, chief commercial officer, amaysim, said: "amaysim offers some of the country's most competitive and affordable SIM-only plans and we know Australians are increasingly data-hungry, so we've ramped up the data. Providing 30GB for $30 or up to 60GB for just $50, our customers can surf, stream and download.
"With EOFY just around the corner, it's an attractive time of year for savvy shoppers to purchase a new smartphone outright and switch mobile service providers to secure a better deal. Our new plans will make that decision even easier."